Thank you
Ottawa in Colour has now been around for an entire year. What an incredible time, thank you! Thank you for supporting us and spreading the word. It's been a blast!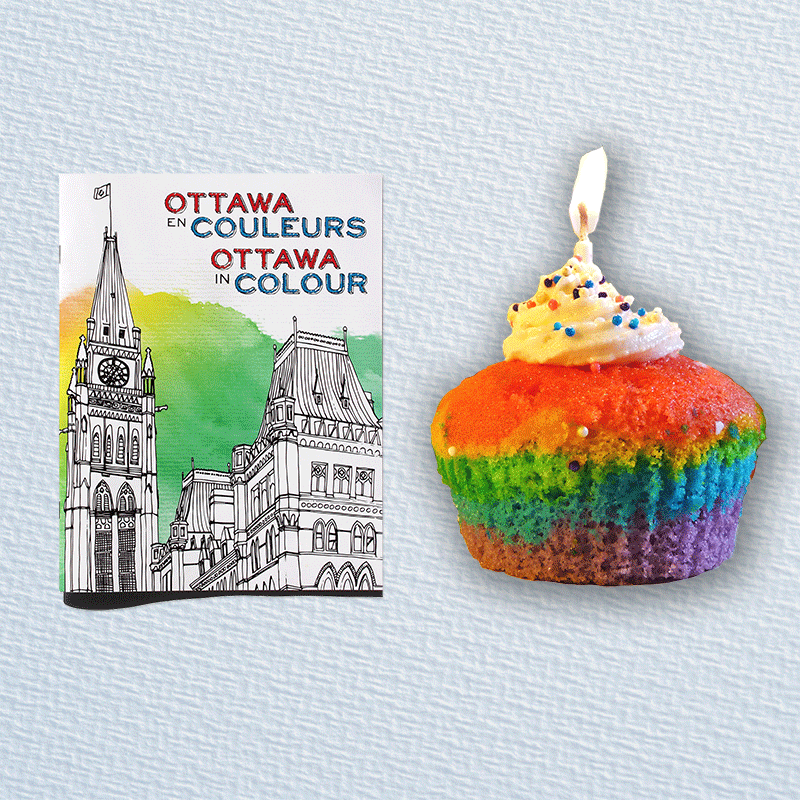 Over a 1000 books sold and 250 given out
By sustaining the project, we were able to pay it forward by participating in over a dozen community events and giving books to charity. We were optimistic, but it's really sinking in that we've reached over a thousandth of Ottawa's population in distribution, not counting household. We will now increase our social contributions!
---
How people have used the book – Different hues for different humans
Through the year, we've heard truly touching stories about people's experiences.
A new Ottawa resident shared the colouring book with his parents as a way to explain Ottawa`s (extra) ordinary daily life. Ottawa has some quirky venues and traditions that are awesome to newcomers.
A family member sent the book as a comforting gift for their home-sick child who is studying abroad.
While flipping the pages, a mother realized that her young daughter had never seen Hog's Back Falls. She said to the young one that they'll definitely have to go explore one of Ottawa's beautiful venues in full flow during summer time.
Others preferred colouring for its relaxing and calming properties. Undeniably and unavoidably, we've been humbled to learn more about mental illnesses. It's important to continue learning about them to better empathise amongst our community.
We've had an undeniable number of proud resident, ecstatic to be able to support and own a representation by local artists. With a series of 'oh-yea-yea-yea's, they browse through every page, being well-versed with the book's content.
Everyone likes to colour
We've been in front of large colourable posters for quite some hours in the last year. We can attest that everyone likes to colour. Some are paralysed as soon as 3 colours are available for the choosing. Others would rush to our station to colour frantically only to realize later that we were there all along. Some need a bit of cheering on.
Ottawa has a vibrant community
We've had the luxury of meeting plenty of awesome professionals, vibrant artists, community contributors and active residents. We've seen a lot of passion being invested in their work and side-projects.
Lessons
Don't be scared to talk about what you are genuinely passionate about to everyone you know. We started by talking about the book as a concept. As people became aware and interested, the concept grew into fruition. As time passed, a lot of people were reaching out to us without our initiation.
Experiment. Persevere when you times are hard. It wasn't always rainbows and unicorn. There was a lot of heavy lifting, (literally boxes of books), papercuts, ink stains, drafts thrown elegantly into recycling, logistics and relationship building. We've tried a lot of things that didn't work at a cost. Learn from mistakes, celebrate little victories.
Define your goals. We started with the objective of creating Ottawa's first colouring book. After our launch, we shifted to creating quality curated community-sourced experiences that can be enjoyed by all. This allowed us to focus our energy on what was important to us and pass on equally interesting opportunities.
Get involved. Find others that share common or complimentary goals. This will help you collaborate on initiatives that you wouldn't be able to do independently. By getting involved we were able to learn at an accelerated pace while building a network of awesome people. Building cool things together requires building trust. Elevate those who deserve the credit.
New price
After a full year, we are now going into our second year with a new price of our crafts. Enjoy and share away!